Oral Surgeon in San Francisco, Cupertino & Los Gatos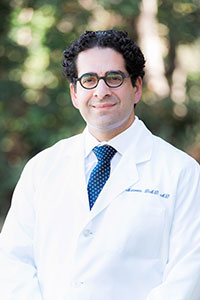 Nima was born and raised in New York. He grew up in northern New York, adjacent to the Adirondack Mountains, the site of the famous 1980 Olympics. He attended St. Lawrence University majoring in Biology and Chemistry and graduated Phi Beta Kappa.
Subsequently, he moved to Boston to pursue a cancer research position at Boston University Medical School, studying the gene expression of Collagen and Elastin. After a few years, he enrolled at the University of Pennsylvania, in Philadelphia, to continue the same project. This is where Nima realized that being a so-called "lab rat" was not his calling. He quickly shifted gears and pursued a combined dual-degree at the University of Pennsylvania Dental School and School of Education, one of only 6 people to do so out of his class of 120.
Additionally, during his second year in dental school, he was one of only 10 students in the US to win a prestigious research fellowship at the National Institute of Health (NIH/NIDCR), where he research the gene expression of mast cells, that are a key cell in any allergic reaction. Towards the end of his dental school training, he decided to further his schooling, with the hopes of pursing an academic teaching position in the future. This is when he elected to attend medical school at Vanderbilt University, while pursuing a six-year residency program in one of the original Oral and Maxillofacial surgery programs in the United States dating back to 1960's.
After attending medical school, he completed a one year general surgery internship at Vanderbilt and then initiated his full-time residency in Oral Surgery. Subsequently, after seeing the devastating effects of facial trauma during his residency in the Southeast, he partook in a Facial Cosmetic Surgery Fellowship at the Ohio State University under Dr. T. William Evans fine tuning his aesthetic surgery skills.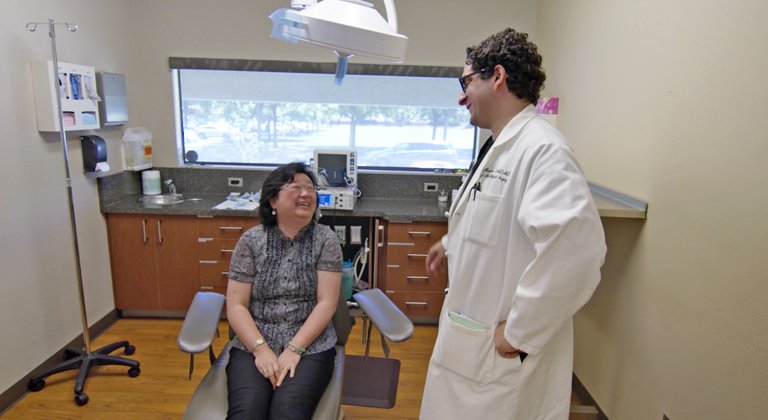 Finally in the summer of 2008, he decided to hit the road. He moved to Northern California and co-founded Silicon Valley Surgical Arts (SVSA). The aim: to create a 'one-stop- shop for anything related to the face, from facial trauma to oral surgical procedures, including the beautification of the face and smile. Then in 2010 he expanded his practice to San Francisco and formed a second office in the heart of the financial district called San Francisco Surgical Arts (SFSA). Part of his goal was to create more convenient access to care for his patients that may live in Silicon valley. Additionally, this office became the first Platinum LEED certified green office in the nation, winning numerous architectural and design awards. This office was featured in the foremost book on medical and dental office design that is published by Ms. Jain Malkin Inc.
Dr. Massoomi is Board-Certified in Oral and Maxillofacial surgery and teaches at the University of Pacific School of Dentistry. He spends his free time biking, hiking, running and searching for the best burger in San Francisco.
Education:
Fellowship – Facial Cosmetics Surgery, T. William Evans, Ohio State University, Columbus, OH
Chief Resident – Oral & Maxillofacial Surgery, Vanderbilt University, Nashville, TN
Residency – Oral & Maxillofacial Surgery, Vanderbilt University, Nashville, TN
Internship – General Surgery, Vanderbilt University, Nashville, TN
Medical School (M.D.) Vanderbilt University School of Medicine, Nashville, TN
Dental School (D.M.D.) University of Pennsylvania School of Dental Medicine, Philadelphia, PA
Masters in Education (M.Ed.) University of Pennsylvania School of Education, Philadelphia, PA
Basic Science Research, Collagan & Elastin Gene Expression, Boston University, Boston, MA
College (B.S.) Biology/Chemistry, St. Lawrence University, Canton, NY