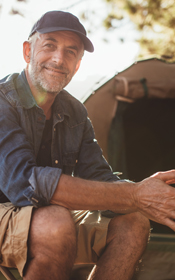 With today's advancement in modern technology, it is possible to replace a full jaw with dental implants for a permanent, stable, and highly aesthetic result. This is typically referred to as the "All-on-4" technique, which refers to 4 implants supporting a full set of teeth in a single jaw. In some cases, more than 4 implants are required, which would be called an "All-on-6 or 8".
Full arch dental implants benefits:
Allow the patients to chew with all of the strength of a natural bite
Provide a solid and stable foundation that can last for many years
Prevent bone loss and preserve the youthful facial appearance, by supporting the lips
Eliminate the embarrassment of dentures that are loose, noisy, or falling out
No more sore spots or denture adhesives like Polydent
All-on-4 Dental Implants

Dr. Massoomi is proud to provide the All-on-4 concept in just one day, at both locations in San Francisco and Cupertino. Unlike most other implants surgeons he does not "free-hand" these cases and uses CBCT guided technology to place the implant in the most precise position. He has pioneered a technique that he refers to as the "3-guide" technique, that uses the patients existing dentition to mark the exact location of the implants. This was recently published in the Journal of Oral Implantology.
The All-on-4 concept can support a fixed set of dentures that are screwed and secured into the implants on the same day. All of this is done in a single office visit. The All-on-4 concept can ensures greater stability in the bone, while reducing the need for bone graft surgery for some patients.
Our All-on-4 denture implants concept has transformed the lives of many patients by giving them a solution that is more comfortable, secure, and reliable than removable dentures.
Full Mouth Reconstruction
Many patients may choose to have both jaws addressed by the All-on-4 concept, restoring their entire mouth with dependable denture implants. There are many advantages to choosing the full mouth reconstruction, which involves restoring both the upper and lower arches at the same time.
Fewer appointments
Fewer complications from multiple surgeries
Less time off work by avoiding a second surgery later
Lower long-term cost
Ideal esthetics and tooth position
Dr. Massoomi will use the latest advances in medicine and dentistry to restore the function and aesthetic of your mouth.
Trefoil Implants
Dr. Massoomi and his partners are one of the first in the US to offer the Trefoil technique to patients that are already wearing traditional dentures that are loose. Today with the use of only 3 implants we are able to convert the patient's previous denture to something that is fixed and secured in the mouth with 3 implants. So in a way this is an "All-on-3" concept, but only for those who already have dentures.
Denture supported implants are convenient because they do not require any adhesive, and are comfortable because they won't slide out of place. You can continue eating, speaking, and smiling without having to worry about your dentures falling out.
Schedule a Denture Implant Consultation in San Francisco or Cupertino
Dr. Massoomi is leading the way in implementing new and improved denture implant methods. If you would like to learn more about our implant options, including All-on-4 dental implants, please contact our office today. We look forward to assisting you.
Related Content