Bay Area Surgical Arts is the place to be if you're looking for an oral surgeon in Cupertino, CA. We work in a specialized environment, and with the most up-to-date techniques, in order to deliver the care and satisfaction you deserve.
Some of the most experienced and professional Cupertino oral surgeons will guide you through every step of your treatment. Here, we treat you as a person, not just as statistics on a chart.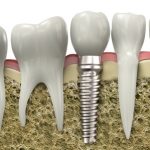 Dental implants an extremely popular way to repair gaps in your bite. A healed bite means easier eating and speaking, bringing full function back to your life.
These implants are extremely durable. They are also uniquely crafted to specifically fit you. Best of all, they look entirely natural.
The root of this synthetic tooth structure is a titanium rod, which is implanted into the area where the natural root once lay. Bay Area Surgical Arts can place these implant rods for you, with precision and care.
Learn More About Dental Implants

Wisdom tooth removal is extremely common, these days. In fact, it is prevalent because extraction is often vital to the health and safety of our other teeth. Due to the small size of the average jaw, wisdom teeth are very often impacted. Surgery is required in order to remove the teeth before they can cause any more trouble. Our surgical facilities and professional staff are more than up to the task.
Learn More About Wisdom Teeth Removal
Cupertino Oral Surgery
While implants and wisdom tooth extractions are some of the most frequent types of oral surgery, there are other procedures we provide. Our doctors also treat gum issues, disease, injuries to the face and jaw, and so much more! Check out our pages on bone grafting, ridge augmentation, sinus lifts, socket preservation to learn more.
Schedule an Appointment with Cupertino Oral Surgeon Dr. Nima Massoomi Today!
If you are in need of oral surgery in Cupertino, CA, call, text, or contact us using the form on this page today. Bay Area Surgical Arts will have you healthy, happy, and whole again before you know it.
Office Hours
| | |
| --- | --- |
| Mon: | 8:00am – 5:00pm |
| Tue: | 8:00am – 5:00pm |
| Wed: | 8:00am – 5:00pm |
| Thu: | 8:00am – 5:00pm |
| Fri: | 8:00am – 5:00pm |