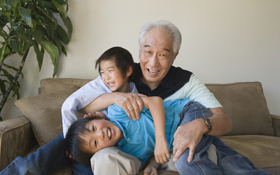 Dental implants are small titanium posts that are surgically inserted into the jawbone underneath your gums. Implants can be used to hold a single prosthetic tooth, a bridge, or even be used to support and secure dentures that are usually loose. Dental implants are mostly of titanium, with some proprietary additives that give each implant type certain specific properties. Titanium's natural properties allows the human bone cells to attach directly to its surface in a process that is commonly referred to "osseointegration". This process can take anywhere from 3 to 6 months or longer depending on the patient's health.
What are the Benefits of
Dental Implants

?
Eat with Ease | When your artificial teeth are secured with implants, you don't have to worry about them coming loose while you chew. You will have fully functioning teeth. No more need to flippers!
No Slippage | Dentures that are implant secured do not slip and slide inside your mouth. No more risk of the denture sliding out of place while you eat, talk, or laugh. No more need to denture adhesive!
Long Lasting | Dental implants that are properly maintained can last for many years. When compared to all other dental treatment options, dental implants have the best long-term track.
Easy Maintenance | When it comes to dental implants, they are easy to care for and are treated just like natural teeth. They do require maintenance via brushing, flossing and the use of ADA-approved mouthwashes. Dental cleanings every six months is highly recommended.
Natural Look | Crowns and bridges that are supported with dental implants look and function just like your natural teeth.
Improved Self-Esteem | Research shows that a beautiful smile can improve the way you feel about yourself! Just take a look at some of our patient testimonials and see for yourself.
How Does The Dental Implants Procedure Work?
Make an Appointment | Dr. Massoomi will provide a comprehensive physical examination to determine if you are a good candidate for dental implants surgery. This is the reason why in most cases a 3D CBCT is required for most implant patients to determine if they are even a candidate for an implant. Disclaimer – Not everyone is a candidate for dental implants.
Preparing the Jawbone | During your extraction procedure, your non-restorable tooth will be extracted atraumatically using minimally-invasive techniques in order to conserve as much bone as possible. If necessary, your extraction site /

jawbone

will be prepared for dental implants surgery in the future. If your jaw-bone is not adequate enough, a so called "bone-grafting" procedure will be performed at the time of extraction in order to gain as much bone as possible for your future implant. Bone-grafting at the time of extraction is highly supported by peer-reviewed research articles. If you are contemplating a dental implant, do not let anyone extract your tooth without bone grafting at the same time. You will need at least a few months for the bone grafted extraction site to heal before any implant can be placed at that site. Extractions site that are not bone grafted take at least twice as long to heal.
Surgery | After the implant is placed, a healing period which we refer to as "osseointegration" will be needed for at least 3 to 6 months or even longer depending on your health. During this time your bone will naturally grow around the implant, securing it in place.
The Abutment | Once your

tooth implant

has fully osseointegrated, you may need another minor dental implants surgery to expose it in order to get it ready for the eventual crown. We refer to this as a "second stage" procedure which can be done just under topical and/or local anesthesia. During this stage a "healing abutment" will be placed on top of the implant to shape the gums in order to get is ready for the eventual crown.
Artificial Tooth | Approximately in one month, after your gums have matured around the healing abutment, you will be cleared to see your general dentist, where an impression or mold will be taken of your implant in order for them to create a custom made crown that will screw into your implant. Whenever possible, the latest research highly recommends screw-retained crowns, instead of the old method of cementing crown which has been show to lead to implant failures in the future.
Dr. Massoomi – At the Forefront of Dental Implant Technology
San Francisco implant dentist Dr. Nima Massoomi is proud to have one of the most technologically advanced practices in the country when it comes to oral surgery for dental implants. One of the latest technologies adopted by him is Yomi, the first and only FDA-cleared robotic device for dental surgery. Yomi assists in both the planning (pre-operative) and the surgical (intra-operative) phases of dental implant surgery! To learn more about Yomi, click here.
Schedule a Dental Implant Surgery in San Francisco or Cupertino
Dr. Massoomi is ready to discuss your implant dentistry options with you and determine whether you are a good candidate for dental implant surgery. Call, text, or contact us using the form on this page to make an appointment today! We are happy to accommodate you at either our San Francisco or Cupertino office.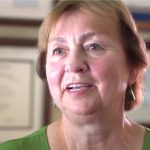 "He (Dr. Massoomi) is not only professional, he is in the top of medicine right now."
-Nataliya Agranova, Dental Implant Patient
Related Content