When is Sinus Surgery Needed?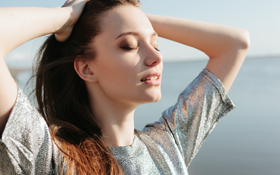 The maxillary sinuses are located behind the cheeks, on top of the upper teeth. These sinuses are used to humidify the air we inhale before it passes through to the lungs.
Usually the roots of the upper teeth tend to extend up into these maxillary sinuses, especially if the teeth are impacted like impacted third molars. If the upper teeth are removed or fall out, there is just a thin wall of bone separating the sinus from the mouth.
Many patients want to restore their complete smile with dental implants, but when the sinus wall is very thin, it is impossible to place implants into the upper jaw without some type of bone grafting. If bone loss is preventing you from revitalizing your smile, a sinus lift augmentation can raise the sinus floor and promote new bone growth.
Benefits of Sinus Lift Surgery
A sinus lift is a common bone grafting procedure that can reverse years of bone loss in the upper jaw. By strengthening the existing bone and growing new bone, a sinus lift surgery can make it possible for patients with bone loss to receive dental implants.
Am I a Candidate for a Sinus Lift Surgery?
A sinus lift, or sinus augmentation may be right for you if:
You are missing more than one tooth.
You have suffered from significant jaw bone loss or deterioration.
You have experienced a long-standing infection in a posterior tooth.
You would like to replace missing teeth with dental implants.
How is the Sinus Lift Surgery Accomplished?
There are two types of sinus augmentation procedures: Internal or External approach. An internal sinus approach is done only at the time of extraction, where the external approach is done a few months later after the tooth is extracted. Depending on the severity of your bone loss, Dr. Massoomi will determine the best approach in your case:
1. Internal sinus lift
A small sulcular incision is made around the teeth that is being extracted.
A resorbable membrane lining may be placed through the opening to create a sinus floor.
Then using a special instrument this is pushed upwards into the sinus.
Fill the underlying space with bone grafting material.
A non-resorbable membrane is secured on top with suture and the healing process begins for 3 – 6 months.
2. External sinus lift
Make a small incision on the premolar or molar region.
Place a membrane lining through the opening to create a sinus lift.
Fill the underlying space with bone grafting material.
The incision is sutured and the healing process begins.

About 3 months after your sinus lift surgery, Dr. Massoomi will start to take X-rays to determine the extent of the bony healing. Once the bone grafted site is fully healed and becomes a functional part of your jaw, Dr. Massoomi will start to plan for your dental implants.
Years ago, patients with bone loss had no option besides wearing ill-fitting dentures. Today, patients can undergo a sinus augmentation to become candidates for highly realistic dental implants. Oral surgery has come a long way.
Schedule a Sinus Augmentation in San Francisco or Cupertino!
Dr. Massoomi has created a safe atmosphere where he consistently performs successful oral surgeries like the sinus lift surgery. To learn more about your candidacy for sinus augmentation, contact our San Francisco or Cupertino office today.
Related Content