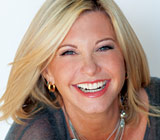 Want to know whether early cancer detection is beneficial? Just ask Grammy-award-winning singer and long-term cancer survivor (or as she prefers it, "cancer thriver") Olivia Newton-John. "Early detection is key to survival!" she recently told an interviewer for Dear Doctor magazine. How does she know?
About 20 years ago, Newton-John discovered a lump in her own breast (which turned out to be cancerous) by self-examination. Following treatment, the 63-year-old star is now as healthy and radiant as ever. She still takes cancer detection seriously — including screenings for oral cancer, which she receives at her periodic dental examinations. "My dentist checks my mouth every time for any possible cancer," she said.
In case you didn't know, oral cancer is dangerous: While relatively uncommon, it isn't usually detected until the disease has reached an advanced stage — and then the odds of successful treatment are reduced. But like Newton-John, you too can be quickly and painlessly screened for oral cancer at your regular dental check-ups.